Happy FINAL week of 2021! Wow…..this year seems to have flown by, hasn't it?
Hope everyone had a wonderful Christmas with family and friends. Great to see many from our men's group when we gathered for breakfast a couple Friday's back.
There were several of you who indicated you'd like us to read "Faithful Presence" by Bill Haslam so I'm recommending that as our first study of the new year. Please go out and purchase the book in your preferred format (hardcover, audio, ect.). It's available by clicking on the book image below.
Lastly, please consider signing up to lead a lesson or two. We'll have a total of 14 Friday's for lessons in the new book plus a breakfast fellowship on the 15th Friday…which also happens to be Good Friday!
Link to SignUp is below: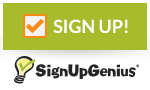 Enjoy your New Year's celebrations! I'll see you next Friday, JAN 7th!
Peace and joy!